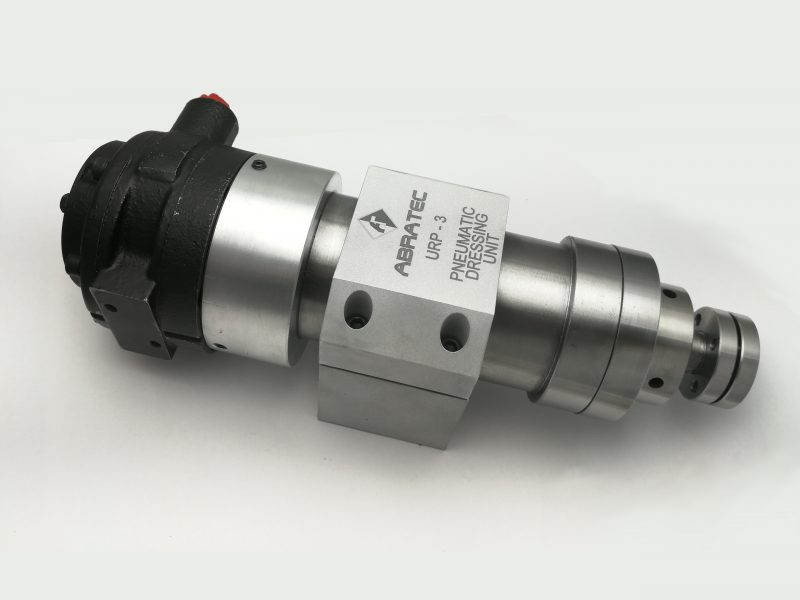 Using diamond grinding wheels in vitrified bonds on machines that have not been specifically designed for this use is often difficult. Often the biggest problem to be faced is the diamond cutting operation which must be carried out by means of a diamond roller placed in rotation on a special spindle. This accessory is not normally present on traditional grinds. To overcome this limitation, Abratec has created dressing units equipped with pneumatic engines that have the following advantages:
Operation without modifications to the electrical system of the machine

Source of energy present on board the machine and easy installation of the necessary configuration
Maximum flexibility of use: you can use the same unit on different machines or mount it permanently on a specific machine
The integration of the pneumatics with the possible CNS of the machine is extremely simple and practical and is obtained by freeing an auxiliary control function to control a pneumatic solenoid valve.
Our dressing units have allowed in many cases to use grinding wheels in CBN or vitrified bonded Diamond not only on CNC machines but also on hydraulic grinding or on sharpening machines allowing to significantly increase the efficiency of grinding processes.
Our specialists are available to recommed the solution that best suits your needs.
.